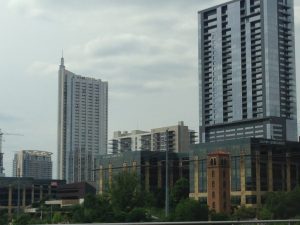 Recently, we took a look at the 2014 results of a poll conducted on the city of Austin by Paul Zandan and thought you might be interested in what Austinites are thinking about the current condition and future of our city.
The Voices of Austin Community survey was created and designed by Peter Zandan and was conducted between April 15-29, 2014. The poll surveyed 804 Austin-area residents that were 18 and older.
Ultimately, the goal of the survey was to open discussions on the challenges and opportunities that Austin, as a whole, is facing.
The major concerns found were:
Traffic
Population Growth
Rising Cost of Living
Water/Drought
Traffic being the top concern is not surprising. The solutions to this traffic issue that the survey found were that 85% support improving public transportation, 84% support building more roads, and 69% say the City of Austin should increase urban rail routes into congested areas of downtown Austin.
Affordability was another concern that topped this poll. Two-thirds said they were dissatisfied with housing affordability and 59% were unhappy with the cost of living. Overall, the poll showed that Austin is seen as growing faster than it can handle.
However, 87% of those polled said they were satisfied with their jobs and 71% said they were optimistic that if they lost their job, they could find an equal job in Austin within six months.
Moreover, the poll found that Austin is definitely keeping it weird as 89% believe "Austin is weird" and more than half (51%) say it is unique but becoming more similar to other major U.S. cities.
Additionally, the survey found the following to describe Austin:
Fastest growing city (93%)
Live Music Capital of the World (92%)
Best nightlife (90%)
Best dining and entertainment (89%)
Best city to start a business (84%)
Best city to start a career (79%)
Healthiest city (78%)
To see the complete survey go to www.zandanpoll.com.
If you or someone you know is interested in buying or selling real estate, please contact Mary Lynne Gibbs at 512.431.2403 or austinluxurybroker@gmail.com. It would be an honor to earn your business.